Shipping
Located in Woodbridge, Connecticut, Air Handling Systems offers convenient shipping options for our customers. We can ship your orders via parcel services such as UPS and FedEx Ground, as well as through LTL (Less Than Truckload) and Common Carrier services.
We prioritize fast delivery, and our pipe is designed for easy shipping. For orders with five-foot lengths and diameters up to 16 inches, we can ship them via UPS or FedEx Ground. Larger orders and ten-foot lengths are shipped through common carrier services. Please note that a minimum purchase of 40 linear feet is required for common carrier shipments. Contact us for pricing details specific to your requirements.
If you have rush orders, we've got you covered as well. We can handle Next Day, Second Day, or 3-Day requests. Simply provide your UPS or FedEx Ground account number, and our experienced Shipping Department will ensure that your shipment is sent via the most economical carrier. As every major shipping carrier serves our location and we have extensive knowledge of shipping rates and carriers to different parts of the country, you can trust us to find the best shipping solution for you.
We are also experienced in shipping products worldwide on a regular basis. If you require international shipping, please provide us with a list of materials and the location of your freight forwarder in the United States. We will promptly provide a quotation that includes the freight cost to your US-based forwarder. It is the customer's responsibility to arrange transit from the freight forwarder to their international location. We will provide the size and weight information of the shipping cartons, along with all necessary export documentation. Click link for more information on Air Handling Systems International shipping options.
Choose Air Handling Systems for reliable, high-quality spiral pipe solutions that cater to your specific needs. Contact us today to discuss your requirements and kickstart your project with confidence.
Average Transit Time
Average UPS and FedEx Ground Transit Days from Air Handling Systems, Woodbridge, CT as of 01/04/2010

Average Shipping Costs
Average shipping costs for parcels shipped via UPS or FedEx Ground from Air Handling Systems, Woodbridge, CT.
1 Day
2 Days
3 Days
4 Days
5/6 Days
AK/HI/PR
Small
13.50
16.99
23.67
26.30
36.98
86.54
Medium
23.10
29.82
43.40
50.13
54.34
156.93
Large
58.15
62.24
76.80
82.30
90.52
303.60
Partial
27.99
35.51
53.32
58.86
63.08
205.74
Pipe 1
34.84
43.24
59.37
66.23
72.45
236.60
Pipe 2
65.67
69.26
83.64
88.91
94.13
349.14
Average costs are for Commercial addresses, Residential addresses will incur additional shipping charges.
Standard Boxes for UPS and FedEx Ground Shipments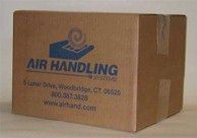 Small Box
15″ x 11″ x 13″. Designed for small parts such as blastgates, small elbows, couplings, and reducers.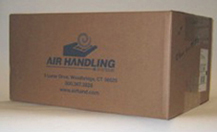 Medium Box
15″ x 13″ x 25″. Our shipping department uses this box for access doors, lateral tees, and other medium size fittings. It's also perfect for vacuum hose kits and 25′ lengths of 3″ flexible hose.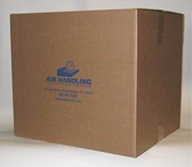 Large Box
28″ x 24″ x 25″. This is the one of the largest boxes we have that can ship via UPS or FedEx Ground. We commonly ship 25′ lengths of flexible hose in 5″ and 6″ diameters or up to 50 foot lengths of 3″ or 4″.
Don't exceed 50lbs. Package must not exceed these dimensions.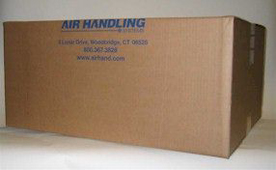 Partial Box
28″ x 25″ x 16″. Perfect fit for 12′ 6″ lengths of UFD, RFH and AH2P in 4″ and 5″ diameter flexible hose.
Pipe 1 Box


13″ x 13″ x 61″ – Perfect fit for 5′ lengths of spiral pipe. Can be used for single pieces of 7″-10″ or multiple pieces of 3″-6″. Will also fit 10U30-C15.
Don't exceed 40lbs.
Pipe 2 Box


17″ x 17″ x 61″. A larger version of our pipe box. Used for single pieces of 12″-16″ or multiple pieces of 5″-8″. Will also fit 12U30-C15.
Don't exceed 50lbs. Package must not exceed these dimensions.
Large Boxes and Crates
Please note: Larger boxes and crates are designed for truck orders shipping via common carriers.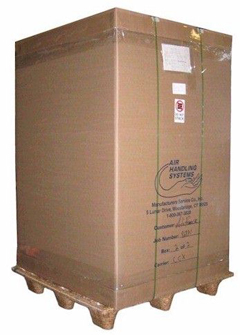 Large Box and Skid
42″ x 36″ x 60″ – Designed for larger orders shipping via common carrier.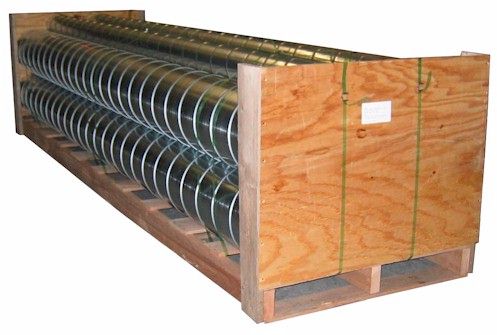 Crate
30″ x 120″ – Designed for shipping spiral pipe via Common Carrier.