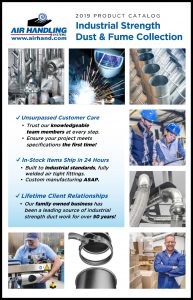 Thank you for requesting additional information from Air Handling Systems your best source for dust collection, fume collection and industrial ventilation. In this latest edition of the Air Handling Systems catalog, you'll find thousands of top quality products to meet your dust collection, fume collection and industrial ventilation needs.  The catalog includes spiral pipe, elbows, lateral tees, flexible hose and many other products.  Many of these products are in stock in our warehouse and ready to ship within 24 hours.  Once you complete this form you will automatically be directed to links to download our AHS Catalog. 

In addition you will be added to our database so you will receive additional information via snail mail as well as periodic (monthly) email newsletters, including the latest news about our events and new products, be assured you can unsubscribe at anytime.
We think you'll enjoy doing business with Air Handling Systems because of our commitment to customer service and quality products.
Please use proper case, * fields are required.