Custom Part Manufacturing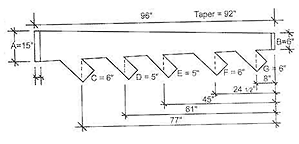 We specialize in manufacturing multi tap manifolds and custom round fittings.  Whether you need one special fitting or a thousand custom parts, we fabricate many custom components to meet the needs of our very diversified customer base.
For quote on multi tap manifold, simply complete our multi tap manifold specification quote form.  To provide a quote for a multi-tap custom manifold we need the following:  On the quote form, designate the A B diameter.  Then, designate the placement and diameter of each tap (C, D, E, F etc.).  Provide measurements from small-end (B) to the start of each tap.
View Sample Multi Tap Manifold Designs (PDF)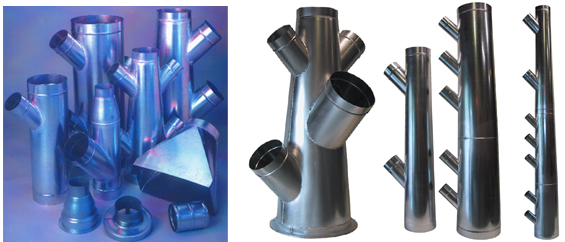 Air Handling Systems supplies to a whole array of furniture and cabinetmakers, boat builders, mobile home manufacturers, sawmills and many other wood product manufacturers. We also work with paper mills and corrugated box manufacturers. We have provided systems to television shows such as the New Yankee Workshop and This Old House and woodworking publishing companies such as Taunton Press, publishers of Fine Woodworking.
Are you installing spray booths, welding booths, or any other equipment that requires ducting for proper ventilation? Are you a Chemical or Allied Product Manufacturer with processes that generate fumes? How about a shooting range that needs ventilation for gun smoke? We have provided solutions for all of these situations.
Printing and publishing facilities need ozone removal. Oil Extraction in the Gulf of Mexico needs fresh air supplied to explosion proof testing labs. Pharmaceutical manufacturers need special flexible hose for clean rooms. These are just a few examples of how we service pollution control.
Unable to provide parts promptly for an installation? We supply HVAC shops throughout the entire country. With our fully stocked inventory we can get you what you need, when you need it. If you have a special requirement, please call us. We will be happy to provide a quote.